On April 18, 2022, ITL Testing was authorized by the CQC entrusted testing laboratory of China Quality Certification Center. Since then, it has won another important honor on behalf of ITL Hongnuo Testing Laboratory in the field of quality technology. As well as a good cooperative relationship with CQC, it can provide enterprises with the well-known CQC certification in China, so that the product quality of the enterprise can be improved, the recognition degree and the reputation of the enterprise can be enhanced.
ITL Testing has successively obtained national CNAS accreditation, CMA accreditation, NVLAP accreditation, and CB laboratory authorization, and has large laboratories in Guangzhou and Dongguan. It can provide professional one-stop testing and certification services for electronic and electrical products of enterprises.
CQC laboratory product category
ITL Testing has obtained the safety and/or electromagnetic compatibility certification laboratory license of CQC-approved electrical equipment for measurement, control and laboratory use (ITL Hongnuo can issue a test report, and then ask CQC to apply for a CQC certificate). Applicable products include :
1) Electrical measurement and test equipment (referring to equipment that measures, indicates or records one or more electrical quantities or non-electrical quantities by electrical means, and also includes non-measurement equipment, such as signal generators, oscilloscopes, analytical instruments, multimeters, measurement standards, power supplies, transducers and transmitters, etc.);
2) Electrical control equipment (referring to equipment that controls one or more output quantities at specified values. Each specified value can be manually set, locally or remotely programmed, or controlled by one or more input variables);
3) Electrical laboratory equipment (referring to equipment for measuring, indicating, monitoring or analyzing substances or for preparing materials, such as PM2.5 air quality testing/monitoring equipment, water pollution testing/monitoring equipment and other environmental testing equipment, food Mass spectrometers, spectrometers and other analytical instruments and equipment for detection, etc.), which can also be used outside the laboratory;
4) Accessories for use with the above equipment and devices.
Note: The product scope of this rule also includes medical measurement control and laboratory electrical equipment.
Charges for testing electrical equipment and accessories for CQC measurement, control and laboratory use
Total reference testing fee: 16840-30000 (different testing fees will be charged according to the structure, function or testing standard of the product)
Application fee certificate fee 1600
The factory inspection fee for the first application is about 6000
3 authentication modes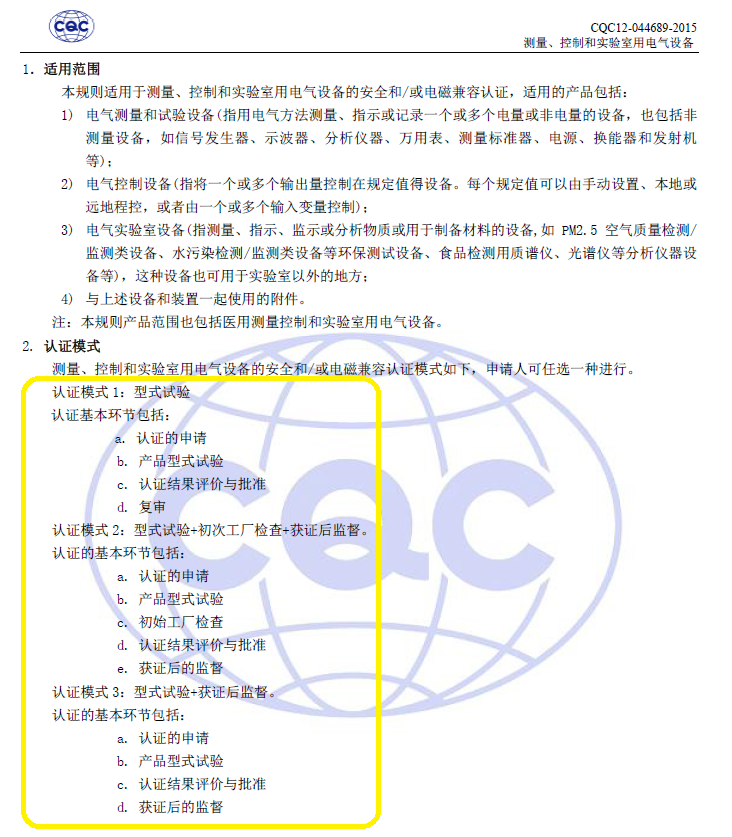 For more information about CQC certification, you can contact Mr Zeng xiangweizeng@gmail.com